Titicacaman Records CAT#16
---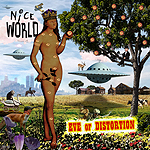 Eve of Distortion
by Nice World (2014)
BUY : amazon | iTunes | CD Baby | bandcamp

It is the twilight of distortion, the dawn of clarity and civility. A nice world of politeness and manners reemerges from the bad old days of boorish vulgarity. Gently dust off your gallantry and cordially walk with us into a courtly sunshine of refinement and courtesy. We reverently join a meek new world of affable sociability. Surly louts are left to churlishly wallow in a rude mire of mutual disrespect. Happy make your fellows and happy make yourself. Grace shall be your portion. Dionysus recedes. Apollo ascends. Play nice…
Nice World is an order punctuated by chaotic coordinates with ordinary access to remarkable excess. Be it Marcelo Radulovich's big city smog choked vocals for local folk, or his appetite for appy iPhonic expansions, and penchant for mistreated guitar. Hear Mike Watson throw his subsonic voice while his wooden dummy drinks a glass of water spilling on a slippery fretboard for those bored with frets, as Bill Ray and Barney Firks weave instruction sets for behaviors that get the girl's and guy's fancy pants fairly bunched. Jim Call's socket wrenched drones and sine wave signals reach out into outer space in hopes of calling folks back to the point of origin from which Nice World first emerged.
From 1 2 3

CREDITS
---
All music by Nice World, lyrics by Marcelo Radulovich
Jim Call: theremin, organ
Barney Firks: bass
Marcelo Radulovich: voice, guitar, electronics
Bill Ray: drums
Mike Watson: guitar, voice
and Nathan Hubbard: vibes on Teps
Recorded/produced/designed by Marcelo Radulovich at Titicacaman Studio, 2014
---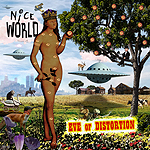 Physical copies available through us. $10 (USA dollars via Paypal) includes shipping & handling in the continental USA.
---
Titicacaman Records CAT#09
---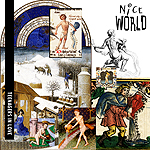 Teenagers in Love
by Nice World (2013)
BUY : bandcamp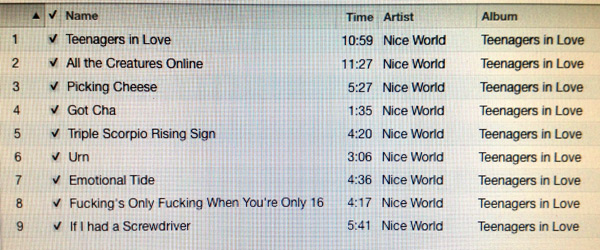 Explore the psychological implications of sound. Find tones to scratch itches as yet unscratched. Look for the aural elixir. Find resonance that will stimulate the hypothalamus… like chocolate, like opium, like love. Research the parameters of analgesic sound — a cure for headache, a wake sleep inducer. If there is anything lovely, praiseworthy, or of good report, we seek after these things.
Teenagers in Love

CREDITS
---
All music by Nice World, lyrics by Marcelo Radulovich
Compiled from a series of improvisation sessions at Titicacaman Studio 2012-2013
Jim Call: theremin, organ
Joey Carano: guitar on tracks 4 and 7
Marcelo Radulovich: voice, electronics, guitar
Bill Ray: drums
Joyce Rooks: cello on tracks 1, 5 and 9
Henry Wessman: bass on tracks 3, 6 and 8
Recorded/produced/designed by Marcelo Radulovich at Titicacaman Studio, 2012-2013
---
---


CONTACT TITICACAMAN Studio Services: EMAIL | PHONE: 760.944.3321