Titicacaman Records CAT#24
---
Bastille Day & Other Lullabies
by Gunther's Grass (2017)
BUY : amazon | iTunes | CD Baby | bandcamp
Gunther's Grass plumbs the imaginary dreamscapes of lost cities, ancient battles and remote frontiers with six new enigmatic improvised assemblages featuring instruments spanning continents and centuries. Gunther's Grass is a collaborative project by Marcelo Radulovich, Christopher Adler, and Scott Walton that has coaxed lush drones, exotic melodies and grinding noises from their instruments for over a decade.

Christopher Adler on khaen, recording session for Bastille Day & Other Lullabies, Titicacaman Studio, July 2017.
---
For their second album they are joined by guest artists
Jennifer Bewerse
(cello on Le Bastille),
Nathan Hubbard
(vibraphone on Tierra del Fuego), and
Eric Starr
(trombone on Tarnopol). Marcelo Radulovich performs on the medieval hurdy-gurdy, a keyed string instrument played with a rotating disc, and sculpts each composition with electronic post-production. Marcelo has been active as a musician/producer and multimedia artist since the early 80s, with a multitude of releases, some under his name, many with various bands, and he continues to explore creating hybrids of music and testing boundaries in visual art at Titicacaman Studio. Christopher Adler performs on the khaen, a bamboo free-reed mouth organ from Laos and Thailand, and on single-free-reed pipes from Northern Thailand called pii jum. Christopher is the world's leading innovator in creating, commissioning and performing contemporary music for the khaen and his work is featured on Tzadik, Innova, and many other labels. Bassist Scott Walton is active in the San Francisco Bay Area creative music scene, and sought after throughout California as an artist whose music negotiates the terrain between jazz, free improvisation, and the classical avant-garde. Bastille Day and Other Lullabies was recorded at locations throughout California and mixed at Titicacaman Studios in Cardiff, CA, in the summer of 2017.

Read a review in Here Comes the Flood
"The trio builds structures that appear to be impregnable or even unscalable at first, but on closer inspection offer handholds and hidden routes. Surrender to the flow with an open mind and the soundscapes unfold. It's like making your way to the jungle to find the structures that have been overgrown with dense vegetation."
Hans Werksman
CREDITS
---
All music by Gunther's Grass
Christopher Adler:
khaen (Lao/Northeast Thai mouth organ), pii jum
Marcelo Radulovich:
hurdy-gurdy, rub-a-metatron
Scott Walton:
upright bass
Guests:
Eric Starr:
trombone (track 2)
Jennifer Bewerse:
cello (track 5)
Nathan Hubbard:
vibraphone (track 6)
Recorded/produced by Gunther's Grass, Summer 2017.
Cover design by Marcelo Radulovich.
---
---
Titicacaman Records CAT#07
---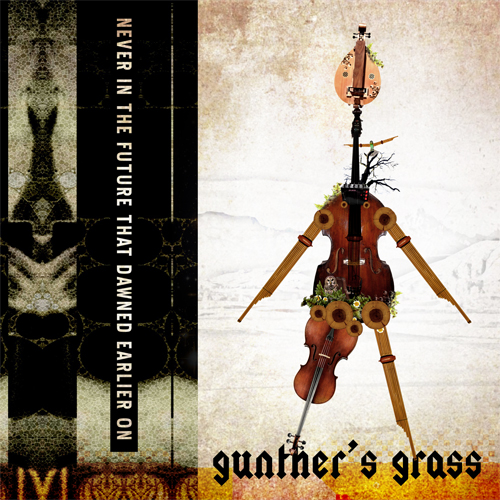 Never in the Future that Dawned Earlier On
by Gunther's Grass (2005-2012)
BUY : amazon | iTunes | CD Baby | bandcamp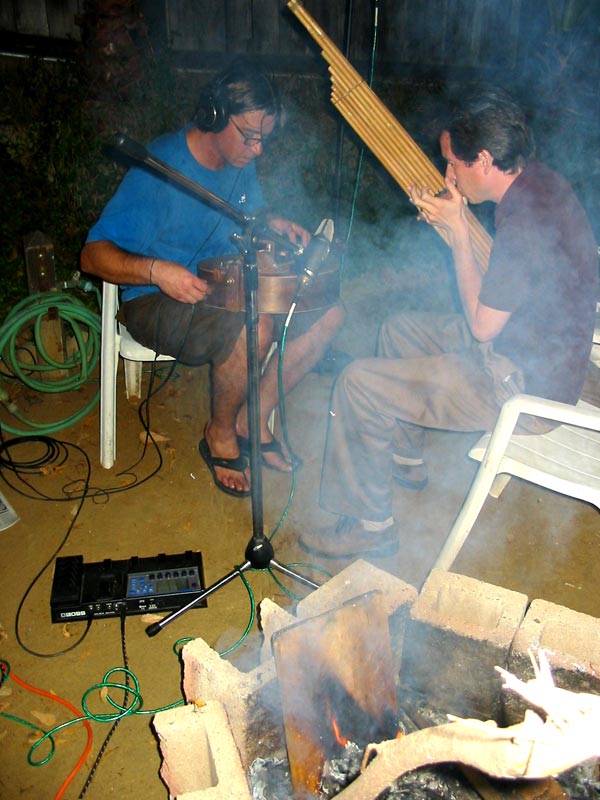 Gunther's Grass began in 2005 as a collaboration between Marcelo Radulovich and Christopher Adler, to bring together two ancient drone-based instruments from across the world, the medieval European hurdy-gurdy and the Lao/Northeast Thai mouth organ khaen. Both instruments present the idiosyncracies of their respective traditions and the instabilities of delicate acoustic instruments.
Through the lens of contemporary improvisation, Gunther's Grass explores these traditions and the tension between the precision of tuning characteristic of drone-based music and the instability of the real instruments in their environment.
CREDITS
---
All music by Gunther's Grass
Christopher Adler:
khaen (Lao/Northeast Thai mouth organ)
Marcelo Radulovich:
hurdy-gurdy
Scott Walton:
upright bass (tracks 1, 4 & 6)
Guests:
Charles Curtis:
cello (tracks 3 & 5)
Marcos Fernandes:
tamboura box (track 4)
Recorded/produced/designed by Marcelo Radulovich at Titicacaman Studio, 2005-2012
---
---
---
---

CONTACT TITICACAMAN Studio Services: EMAIL | PHONE: 760.944.3321