Titicacaman Records CAT#10
---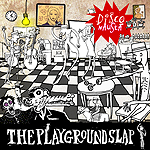 Disco Nausea
by The Playground Slap (1982-2013)
BUY : amazon | iTunes | CD Baby | bandcamp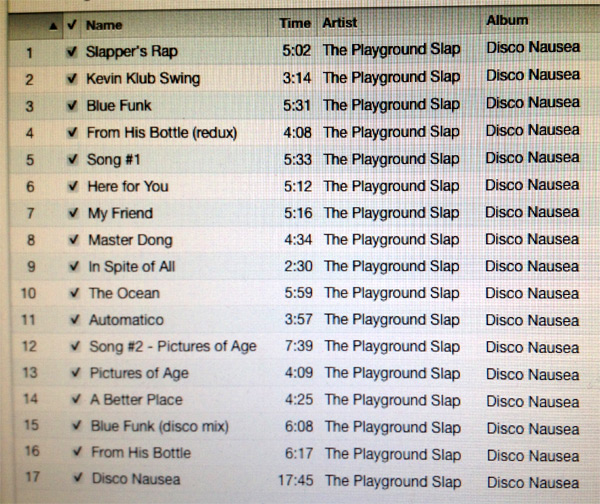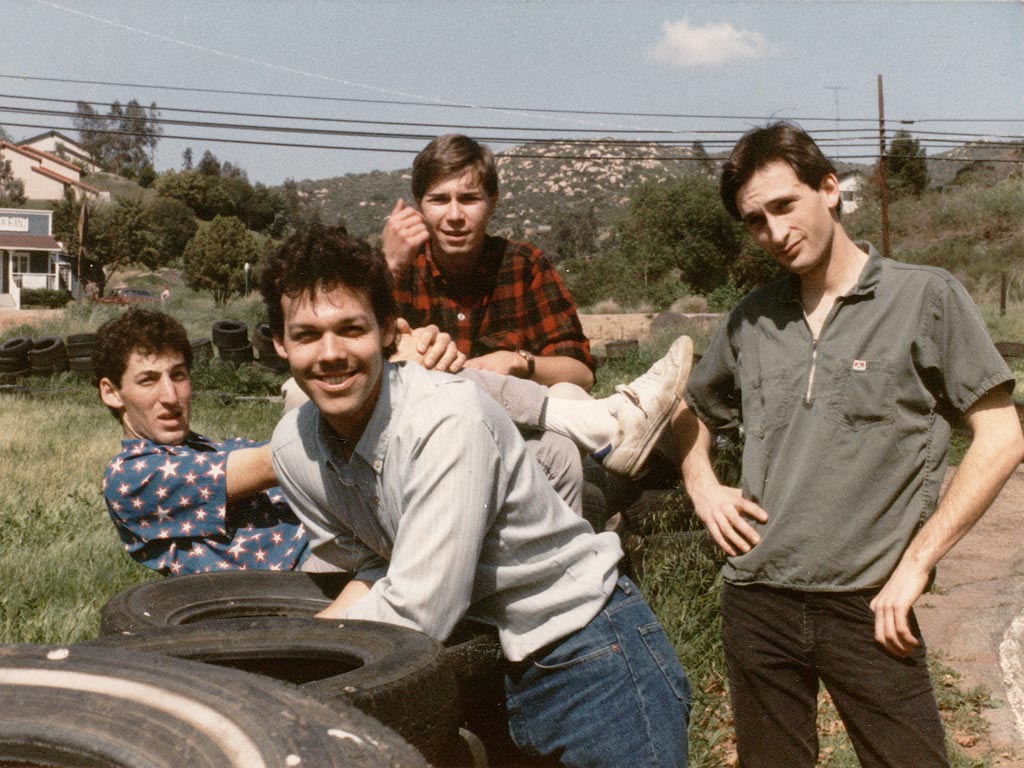 In its 6 year span The Playground Slap concocted a strange groove, a Jamulian brew of peculiar funk. Rock with many nods to psychedelia, rap and jazz, with sprinkles of country and latin sway, brooding songs with catchy sounds aloft a swingingly stiff, often atonal mess of introspection and parody. The Sartre-riddled kids played some arty shit, and possessed an uncanny ability to drop their pants in unison at the flick of a light switch.
Forged and sloppily polished in a secretive compound in Jamul (the DeZonia bunker, a.k.a. Jamul A-Go-Go), these intrepid self-taught new funking wave brothers, delivered a unique version of romanticismic bounce to eager, strained ears in the San Diego area. During their tenure, 1982 to 1988, they shared the stage with bands like Midnight Oil, Fishbone, Ministry, Camper Van Beethoven, Adrian Belew's The Bears and many others. Feeling the need to pursue other interests the Slap boys parted ways in 1988.
Kevin Klub Swing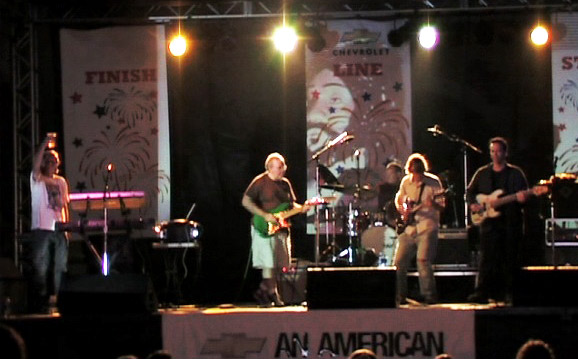 Moving on to 2005-2007, Marcelo contacted David and the old mates set to record a bunch of the old Slap tunes at Titicacaman Studio. Original members Ray and Spike were invited to join the fray, and new blood came into play with the talents of Bill Ray on drums and old Slap friend Mike Keneally on guitar and keyboards.
Disco Nausea is compiled from a series of recording sessions at Titicacaman Studio 2006-2007 as well as numerous cassette recordings from the 1980's. Recorded/produced by Marcelo Radulovich and David Ybarra in 2006, remixed by Marcelo in 2013.
---
Read Jim Trageser's review in the San Diego Troubadour: Disco Nausea
---
CREDITS
---
All songs by Marcelo Radulovich except tracks 1, 8 & 17, Radulovich/DeZonia/Ybarra/Addis, and track 8, Radulovich/Ybarra
Michael Addis:
drums on tracks 1, 4, 13 & 17; vocals on tracks 1, 8, 9 & 17
Ray DeZonia:
keyboards on tracks 1, 2, 3, 4, 7, 8, 9, 10, 11, 13, 14, 16 & 17; vocals on tracks 1, 2, 3, 7, 8, 9, 10, 13, 14, 16 & 17
Mike Keneally:
guitar on tracks 1, 3, 7, 10, 11, 16; piano on track 4; clavs on track 6
Marcelo Radulovich:
vocals, guitar, percussion on all tracks; melodica on track 1; keyboards on tracks 5, 6, 12, 15 & 17; drums on track 8
Bill Ray:
drums on tracks 2, 3, 5, 6, 7, 9, 10, 11, 12, 14 & 16
David Ybarra:
bass; vocals on tracks 1, 2, 3, 7, 8, 9, 10, 12, 13, 15, 16 & 17; lapsteel on track 4; samples on track 8
Disco Nausea cover designed/illustrated by Marcelo Radulovich
The Playground Slap logo designed by Michael Addis
---
---
---

CONTACT TITICACAMAN Studio Services: EMAIL | PHONE: 760.944.3321